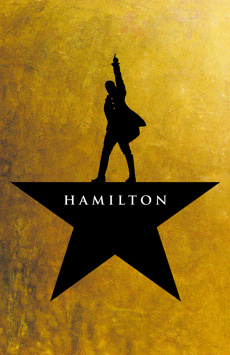 Our On the Same Page selection this year is the cast album for Lin-Manuel Miranda's musical version of the story of Alexander Hamilton, whose contributions still echo today in government, business, and even in how news is reported. It's told through the eyes of people experiencing the American Revolution as they try to shape it to their own desires from their own perspectives. Besides giving a new spin to history, the musical brings forward questions of enduring importance: the role of individuals in bringing about social and political change; equality and opportunity in a land shaped by immigrants; the importance of family versus accomplishment; and basic questions about American democracy. The musical itself has shaped political and artistic discussions about what musical theater looks like in the 21st century. Who ever thought we'd see an Oakland rapper playing Thomas Jefferson on Broadway? Or a George Washington who is not white? Why didn't we expect rap as show tunes? Please join us in listening to the show, and watch and read some of the additional materials that appear on the On the Same Page web site, as we explore this deep work and its context together.
Jeremy McCarter
Jeremy McCarter is the co-author of HAMILTON: THE REVOLUTION with Lin-Manuel Miranda. Their account of the creation and impact of the celebrated Broadway musical opened as a #1 New York Times bestseller. 
McCarter is a writer, producer, and director. Before he created and ran the Public Forum, he was a cultural critic for Newsweek and New York Magazine. He studied history at Harvard and lives in Chicago. His next book, entitled YOUNG RADICALS will be released in June 2017.
McCarter's essays and backstage profiles in HAMILTON: THE REVOLUTION are based in part on his early involvement in the show, which began during the five years he spent on the staff of the Public Theater in New York City. He created and ran The Public Forum, a series of performances and conversations at the esteemed Public Theater that further fueled his fascination with the process of theater and truly understanding the artists who devote their lives to creating it. His access to the beginnings of such a revolutionary musical allow Jeremy to present unprecedented insights to the arc of the show, and Jeremy ably reveals how Miranda and his collaborators created a show about a revolution that is revolutionary in its own right.
YOUNG RADICALS picks up the same themes of HAMILTON: THE REVOLUTION, and focuses on the struggle to pursue American ideals during politically tempestuous times. Jeremy tells the story of five brave young people agitating for freedom and the way they were able to maintain their vision of America's future as the nation barreled towards the start of World War I.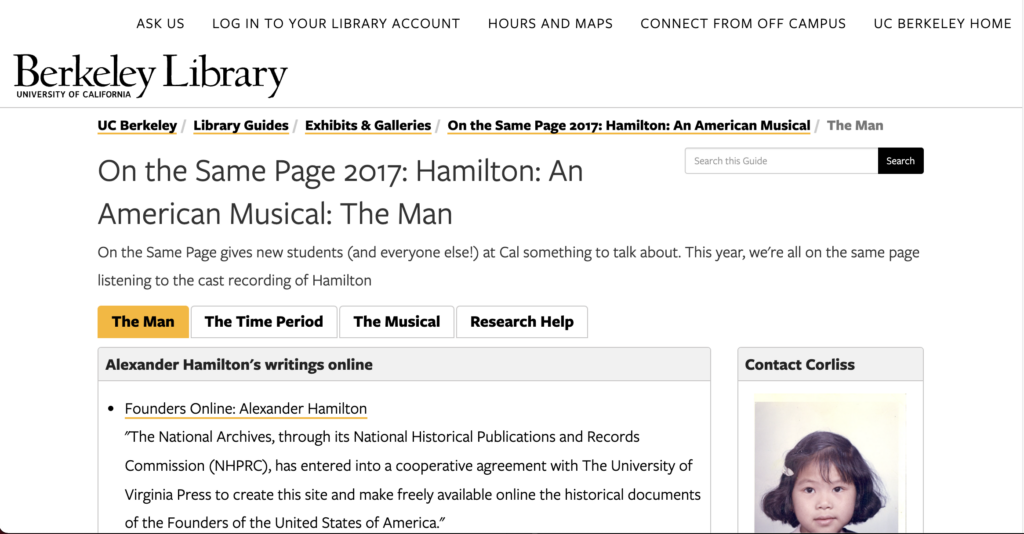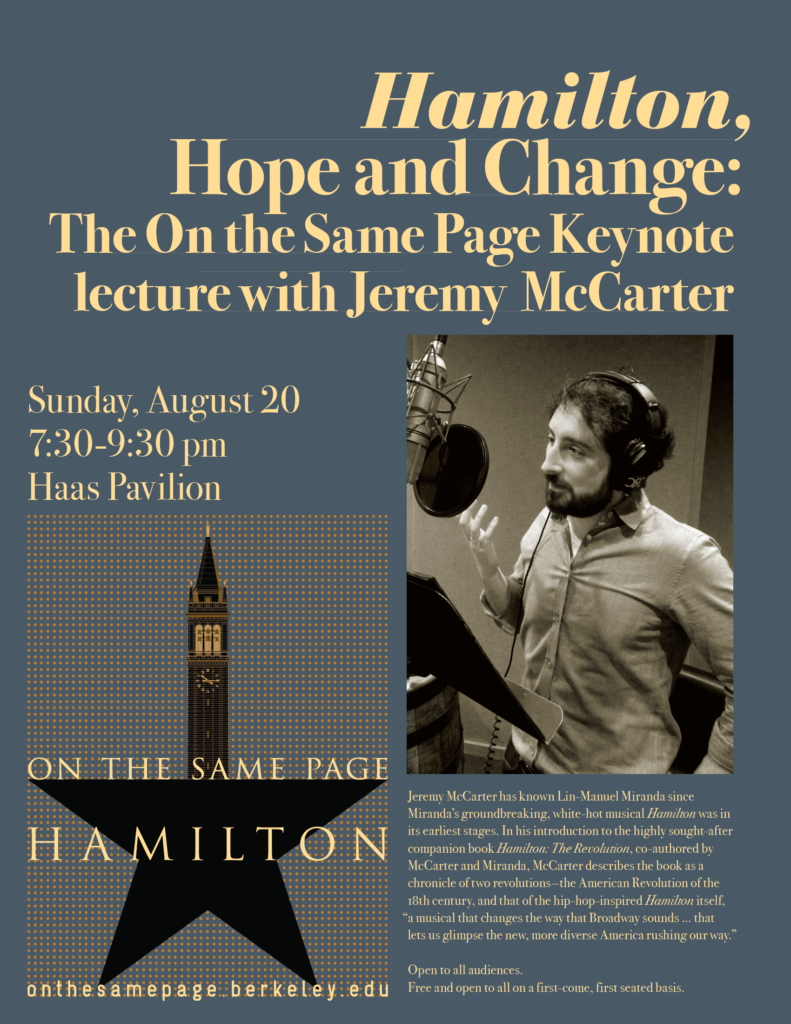 Hamilton, Hope and Change: The On the Same Page Keynote lecture with Jeremy McCarter
Sunday, August 20, 2017
7:30-9:30 pm
Haas Pavilion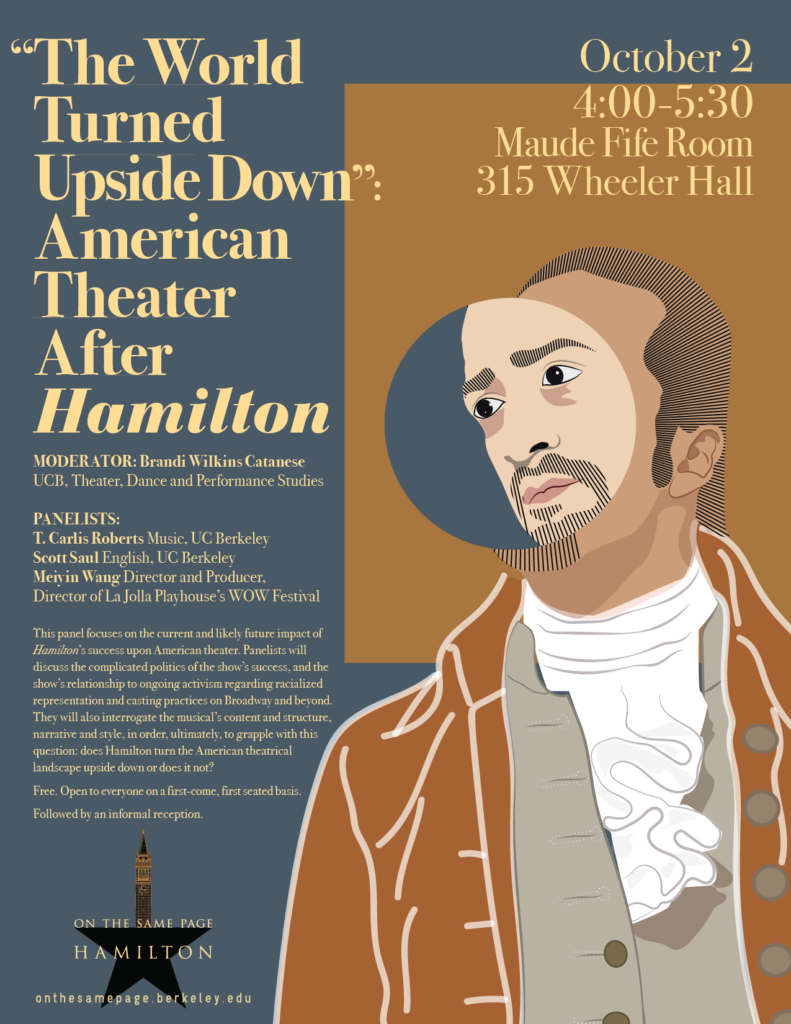 The World Turned Upside Down: American Theater after Hamilton
October 2, 2017
4:00-5:30 pm
Maude Fife Room, 315 Wheeler Hall
Moderator: Brandi Wilkins Catanese, Theater, Dance and Performance Studies, UC Berkeley
Panelists:
T. Carlis Roberts, Music, UC Berkeley
Scott Saul, English, UC Berkeley
Meiyin Wang, Director and Producer, Director of La Jolla Playhouse's WOW Festival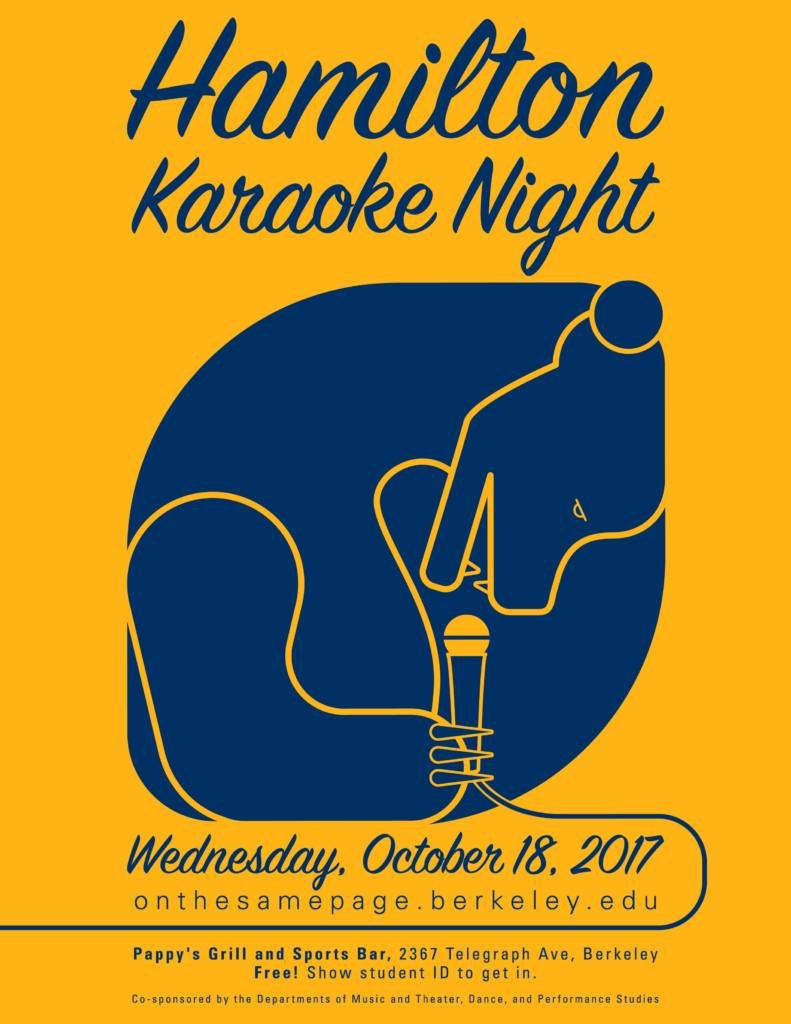 Hamilton Karaoke Night
Wednesday, October 18, 2017
Pappy's Grill and Sports Bar
Come out and sing your favorite songs from Hamilton with us! Anyone with a Cal i.d. is welcome, and the event is free. We will provide food and music and lyrics–you provide the entertainment! Our MC will be Sureni Weerasekera. Special singing guests will include Dean Bob Jacobsen!
Our co-sponsors for this event are the departments of Music and Theater, Dance and Performance Studies.
Who Owns the Founding? Race, Gender, and Immigration in Hamilton
Wednesday, October 25, 2017
4:00-5:30
Banatao Auditorium
Moderator: Wendy Brown, Political Science, UCB
Panelists:
Robin Kelley, History, UCLA
Mark Peterson, History, UC Berkeley
Shannon Steen, Theater, Dance, and Performance Studies, UC Berkeley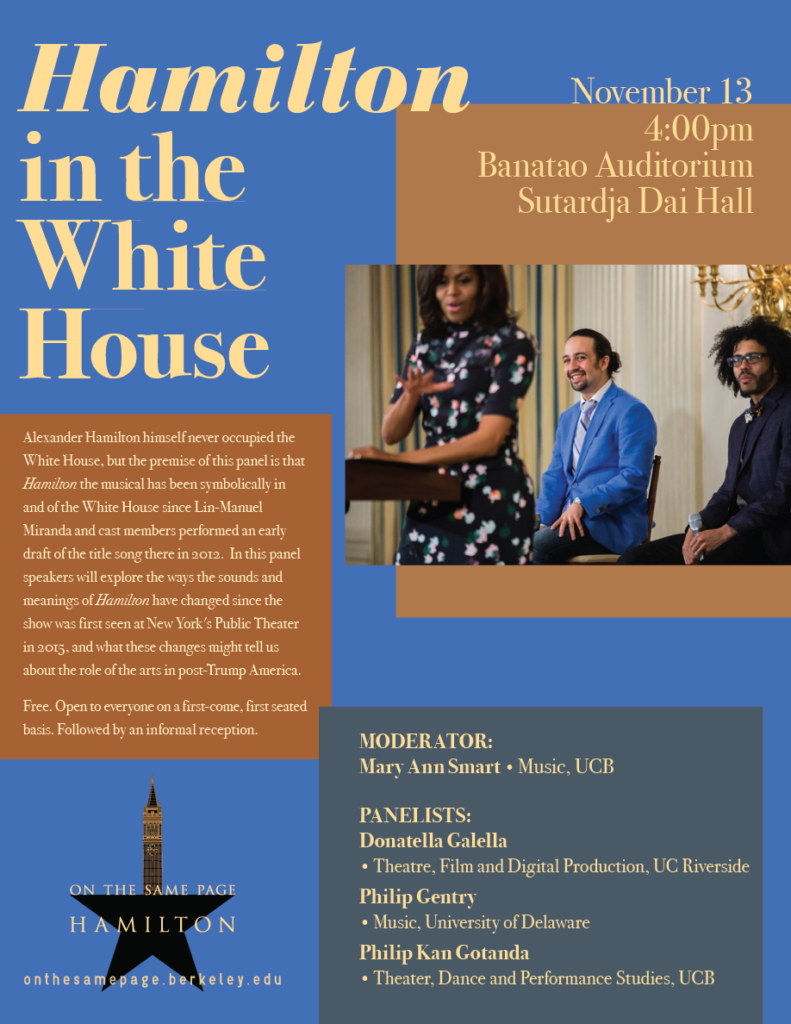 Hamilton in the White House
November 13, 2017
4:00 pm
Banatao Auditorium, Sutardja Dai Hall
Moderator: Mary Ann Smart, Music, UC Berkeley
Panelists:
Donatella Galella, Theater, Film and Digital Production, UC Riverside
Philip Gentry, Music, University of Delaware
Philip Kan Gotanda, Theater, Dance and Performance Studies, UC Berkeley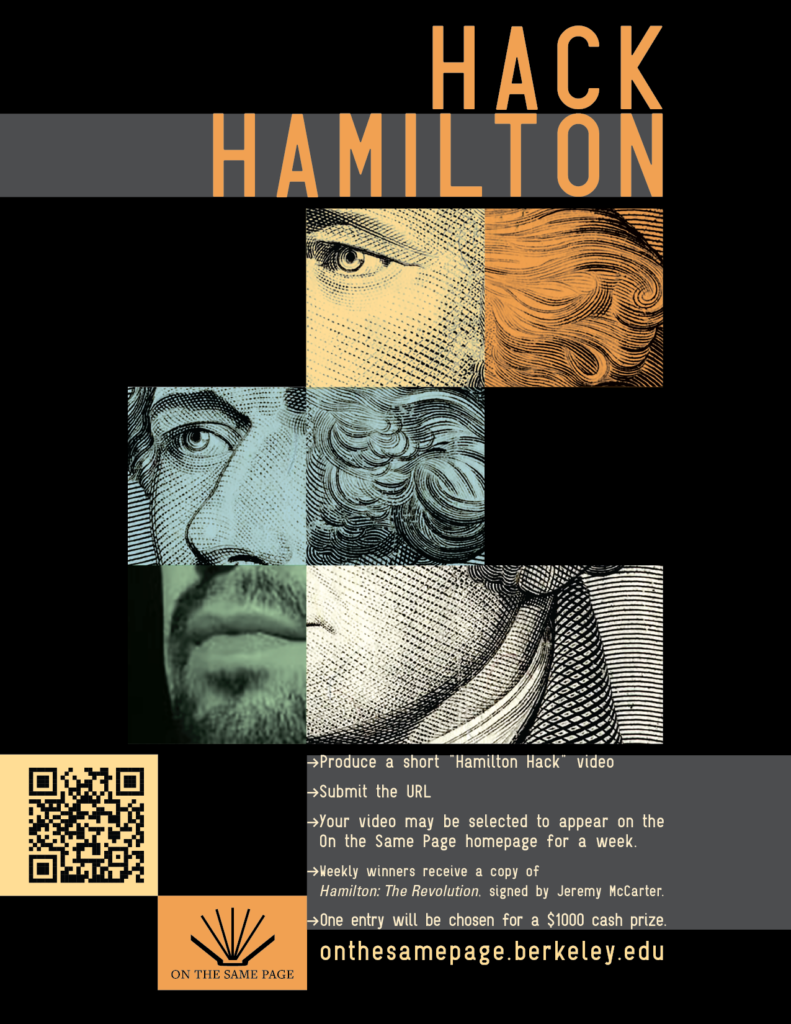 Hack Hamilton
Hamilton has inspired an incredible response from its fans, some of whom have produced videos to express their passion and engagement. You can find examples of this all over YouTube. Here are a few:
Knowing the creativity and talent of our students, we have a feeling that you all can produce your own "Hamilton Hacks" that will outshine anything already on the internet. Make a short video, submit the URL here, and your video may be selected to appear on the On the Same Page homepage for a week. 
We will choose one winner each week starting the second week of the fall semester. Weekly winners will receive a copy of Hamilton: The Revolution, signed by Jeremy McCarter. At the end of fall a panel of celebrity (including faculty) judges will choose the best entries for a $1,000 cash prize.
Hack Hamilton Grand Prize Winner
Kellie Pham – The Schuyler Sisters (Lyric Video in Chalk)
December 5, 2017: Announcing the grand prize winner of the Hack Hamilton contest: Kellie Pham! Watch her winning video. Kellie will receive a $1,000 cash prize, courtesy of On the Same Page. Congratulations, Kellie!
Hack Hamilton Weekly Winners
Ashlyn Wright – Falling for Hamilton
Eden Cayabyab –  (Eliza) Hamilton's Burn
Alice Zhang – Hamilton Mixtape: Immigrants (We Get the Job Done) Dance Choreography
Berkeley Revolution Mixtape
You've heard the Hamilton Mixtape! Now you have the chance to be featured in a special mixtape by Berkeley students–the Berkeley Revolution Mixtape. Submit your audition tape by November 17. The students whose songs are chosen for inclusion on the Berkeley Revolution Mixtape will win a series of workshops conducted by the RYSE Youth Center's Media, Arts & Culture Department, culminating in studio time so that you can record a professional-grade version of your song, which will then be featured on our final Mixtape.
What kinds of songs are we looking for? Songs that may be inspired by the revolutionary nature of Hamilton in some way, but which take your own form and direction. For instance, you might write a song (in any genre) about a period of social change other than the Revolutionary period, or a revolutionary (historical or contemporary) figure of your choice. The judges will be looking for evidence of your own originality and creativity. Humor is not a must, but it can be a plus.
The winners will be selected at the end of the fall term, and invited to participate in workshops (for instance, about song writing and beat making) and record in the RYSE studio in the spring term. Workshops and studio time will be in the early evening, Tuesdays and Thursdays 4:00-6:00. In addition, each winner will receive a $500 Amazon gift card. To enter the contest, simply fill out this online form by November 17. You will be asked to submit a link to your audition tape. Your song should be in a compressed format (MP3 or similar internet stream-able compressed audio format).
Selection Committee
Sine Huang Jensen, Asian American and Comparative Ethnic Studies Librarian
Mara Loveman, Sociology
Kathleen Ryan, Plant and Microbial Biology
Alan Tansman, East Asian Languages and Cultures
Susan Ubbelohde, Architecture
Faculty Planning Committee
Cathy Ceniza Choy, Ethnic Studies
Peter Glazer, Theater, Dance, and Performance Studies
Mark Peterson, History
Eric Schickler, Political Science
Mary Ann Smart, Music
Brandi Wilkins Catanese, African American Studies and Theater, Dance, and Performance Studies