What if there were secret doors connecting your country to others? What if we stopped guarding those doors? Exit West by Mohsin Hamid tells the story of two independent people, Nadia and Saeed, who make a connection in night school and fall in love. But their city descends into war, and soon they find themselves passing through one of the secret doors. Their story is about what it feels like to be uprooted and forced to "exit" your home to face the unknown. Will their connection survive in these new circumstances? Set against the backdrop of migrant lives and guided by compassionate intelligence, this beautiful novel inspires big thinking about what it means to be a global citizen.
Our student reviewers offered comments such as these:
"The ways in which this book humanizes and makes real the challenging experiences of migrants is crucial and impactful in today's world."
"It's very captivating! I started reading it yesterday and finished it today. It's moving, and emotional, and the story is definitely compelling on multiple levels."
"I think anyone could engage with this book! It's particularly interesting that the country the protagonists are from is never explicitly named; I think one of the points of the book is to be open to interpretation and engagement from many different people, and hopefully shift the normal assumptions about migrants and refugees."
"Students interested in stories, in learning more about the experiences of immigrants, and in understanding new perspectives and imagining how the world is from another's perspective would love this book. It is written in a very engaging way and is a captivating read."
Mohsin Hamid
Mohsin Hamid was born in 1971 in Lahore. He grew up mostly in Pakistan but spent part of his childhood in California and returned to America to attend Princeton University and Harvard Law School. He then worked in New York and London as a management consultant before returning to Lahore to pursue writing full time.
His first novel, Moth Smoke (2000), told the story of an ex-banker and heroin addict in contemporary Lahore. It was published in 14 languages and became a cult hit in Pakistan, where it was made into a telefilm. It was also the winner of a Betty Trask Award and a finalist for the PEN/Hemingway Award. His second novel, The Reluctant Fundamentalist (2007), recounted a Pakistani man's abandonment of his high-flying life in New York. Published in over 30 languages, it became a million-copy international bestseller. It won the Ambassador Book Award, the Anisfield-Wolf Book Award, the Asian American Literary Award, and the South Bank Show Award for Literature, and was shortlisted for the Man Booker Prize. The Guardian named it one of the books that defined the decade. A 2013 film of The Reluctant Fundamentalist by Oscar-nominated director Mira Nair starred Riz Ahmed, Liev Schreiber, Kate Hudson and Kiefer Sutherland.
His third novel, How to Get Filthy Rich in Rising Asia (2013), was a love story and an exploration of mass-urbanization and global economic transformation—in the apparent guise of a self-help book. It won the Tiziano Terzani Prize, was shortlisted for the DSC Prize and Germany's International Literary Award, and was published to exceptional critical acclaim. In the words of Michiko Kakutani of The New York Times "With How to Get Filthy Rich in Rising Asia, Mr. Hamid reaffirms his place as one of his generation's most inventive and gifted writers."
Mohsin Hamid writes regularly for The New York Times, The Guardian, and The New York Review of Books. He has lectured at dozens of universities around the world, from Stanford and Yale to the London School of Economics and the National University of Singapore. In 2013, Foreign Policy magazine named him one of the world's 100 Leading Global Thinkers. His fourth novel, Exit West, is a New York Times Bestseller and was a finalist for the Man Booker Prize.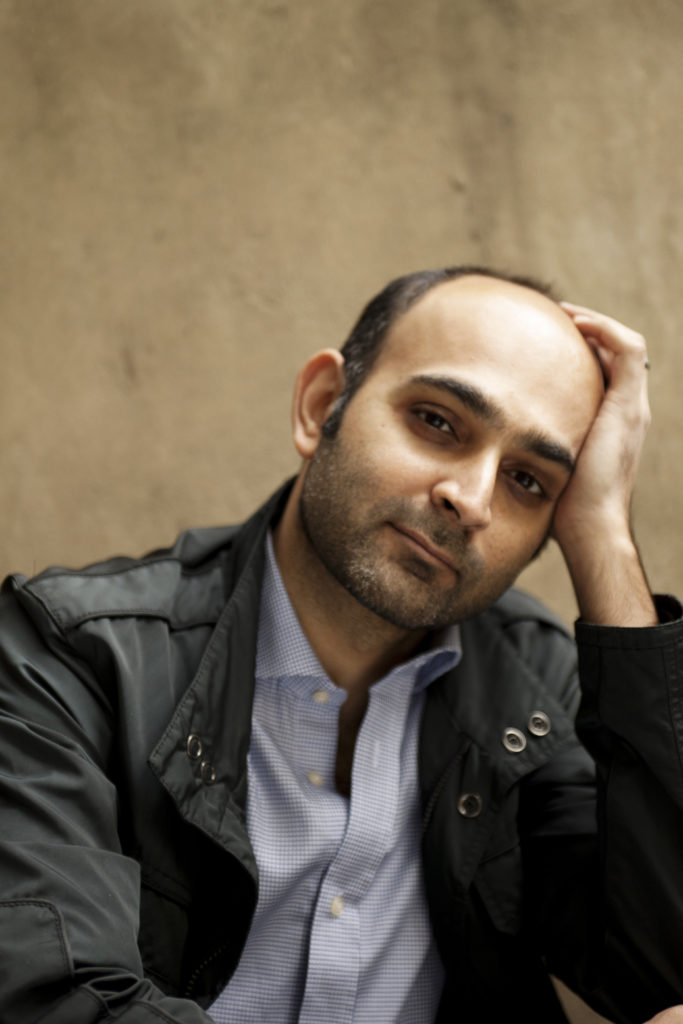 Further Reading and Research
Here is a list of academic and other resources. We welcome your suggestions for additions to this list.
Facts about Refugees in America, from the UN Refugee Agency.
The Syrian Oral History Project features over fifty interviews conducted with refugees in Jordan and Turkey and also with displaced Syrians still within the country.
For those who want to know more about Muslim refugees from Spain specifically, this book is recommended: The Expulsion of the Moriscos from Spain: A Mediterranean Diaspora, edited by García-Arenal, Mercedes and Wiegers, Gerard Albert, and translated by López-Morillas, Consuelo and Beagles, Martin.
On the Same Page with Mohsin Hamid: A virtual keynote lecture
August 21, 2020 | 8-9 p.m.
Online
Featured Speaker: Mohsin Hamid, Author
Moderator: Khatharya Um, Professor, Ethnic Studies Department
Mohsin Hamid's award winning novel Exit West will be highlighted this fall as the featured text for On the Same Page. Everyone at Cal is invited to watch his keynote lecture during Golden Bear Orientation.
Berkeley Art Museum and Pacific Film Archive presents: Exit West Film Series: Immigration on Film
September 8–November 20, 2020
This selection of films addressing immigrant and refugee experiences is inspired by Mohsin Hamid's 2017 book Exit West, which new UC Berkeley students are reading this fall as part of Cal's On the Same Page program. In the novel, characters escape the chaos of war by stepping through magical doors to the West, dispensing with travel across borders by foot, boat, and other perilous means. As Michiko Kakutani of the New York Times notes, Hamid "is less interested in the physical hardships faced by refugees in their crossings than in the psychology of exile and the haunting costs of loss and dislocation." In keeping with Hamid's incorporation of fairy-tale elements, the films in the series experiment with form as a means of communicating the impacts and emotions—be they anxiety, anger, or hope—of a life defined by uncertainty. Filmed in refugee camps and detention centers, in lodgings and homes and on the road, these works are filled with reflections of lives in transit.
The film series, Exit West: Immigration on Film, cosponsored by On the Same Page, is being streamed by BAMPFA. Each program is available for a limited time, accompanied by a livestreamed or recorded discussion. See the individual program listings for dates and details. Faculty who would like to inquire about arranging for their class to attend programs for free, should email BAMPFA Film Curatorial Associate Jeff Griffith-Perham at griffithperham@berkeley.edu.
Presented in conjunction with UC Berkeley's 2020 On the Same Page program, with thanks to Alix Schwartz, Debarati Sanyal, and Khatharya Um. Thanks also to Ilisa Barbash, Irina Leimbacher, Jeffrey Skoller, and Joanna Raczynska (National Gallery of Art) for their advice and assistance. Your Day Is My Night is cosponsored by Canyon Cinema.
The Italian Migration Studies Working Group presents Francesca Melandri
Mar 02 2021 – 11:30 a.m.
Online
Event co-sponsored by On the Same Page.
Volunteer
There are many ways that students with varying interests, capabilities and talents to contribute to organizations that help refugees. Here are some ideas. We will be adding to this list as time goes by, so check back later.
East Bay Sanctuary: EBSC provides legal services, community organizing, and transformative education to support low-income immigrants and people fleeing violence and persecution.
International Rescue Committee: By volunteering with the IRC in Oakland, CA, you use your skills to help people who have fled violence and persecution to rebuild their lives in America. 
Partition Archive: This group is dedicated to preserving a people's history of Partition. It is their view that a strong foundation in history will pave the way for a more enlightened future for the subcontinent and hence the world. Volunteers are needed to collect stories by conducting interviews.
One Billion Miles to Safety: Join the UN's Refugee Agency to walk, run, and cycle the number of miles refugees travel every year to reach safety. There are also opportunities to donate and fundraise for this organization.
The UN Refugee Agency partners with many other agencies and organizations to help refugees. Start exploring the coalition on this page.
Courses
Fall 2020
Asian American Studies W20AC: Asian American Communities and Race Relations, Instructor: Harvey Dong
Asian American Studies 125: History, Memory and Citizenship: Key Issues in Southeast Asian Migration and Community Formation in the US, Instructor: Khatharya Um
College Writing R1A, section 4: Cross-Cultural Conversations, Instructor: Carmen Acevedo Butcher
College Writing R1A, section 7: Freedom: Moving Between Worlds, Instructor: Michelle Baptiste
College Writing R1A, section 11: The Pen and the Sword: Violence, Education, and Identity, Instructor: Kim Freeman
College Writing R1A, section 15: Connections, Instructor: Ben Spanbock
College Writing R1A, section 10: Traveling Identities: Migration, Culture, and Belonging, Instructor: Lindsey Lanfersieck
Ethnic Studies 240: Bodies in Motion: Theories, Concepts and Issues in Critical Refugee, Diaspora and Transnational Studies, Instructor: Khatharya Um
French 43: Arts of the Border: Visions of Migration in Film, Photography and Fiction, Instructor: Debarati Sanyal
Near Eastern Studies 190E: Reel Arabs: Film and Fiction in the Middle East, Instructors: Ahmad Diab
Sociology C146M/Legal Studies C134: Migration and Membership, Instructors: Irene Bloemraad and Sarah Song
South Asian 240: The Realist Novel in South and Southeast Asia, Instructor: Vasugi Kailasam
Spring 2021
Humanities 10: Borders and Belonging: Reading Refugees through Law, Literature, and Film, Instructors: Karl Britto, Samera Esmeir, and Debarati Sanyal
Selection Committee
Samantha Teplitzky, Earth and Physical Sciences Librarian
Namwali Serpell, English
Michael Cohen, American Studies and African American Studies
Jake Kosek, Geography
Evan Variano, Civil and Environmental Engineering
Faculty Planning Committee
Ahmad Diab, Arabic Literature
Nasser Meerkhan, Spanish & Portuguese and Near Eastern Studies
Sarah Song, Law
Estelle Tarica, Spanish & Portuguese
Khatharya Um, Ethnic Studies