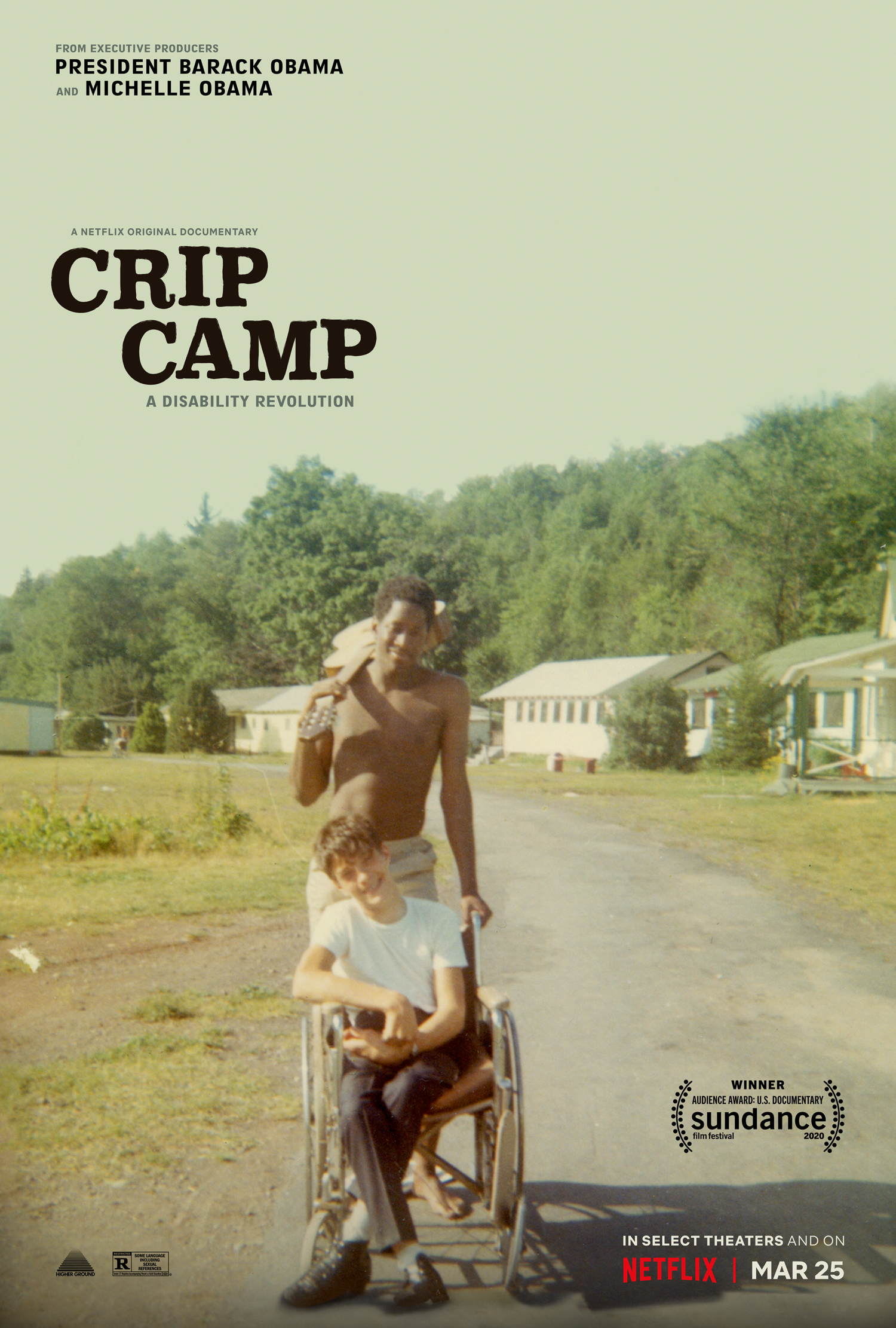 Crip Camp: A Disability Revolution
On the Same Page gives new students (and everyone else) at Berkeley something in common to talk about: a work that has changed the way we view the world. In 2023, that work is the documentary film Crip Camp: A Disability Revolution. Following a group of disabled teenagers from Camp Jened in New York to Berkeley, California in the 1970s, this exuberant documentary chronicles a turning point in the disability rights movement and the fight for accessibility.
Our student reviewers described the documentary as "incredible," "moving," "full of fun, joy, and love," and something that "everyone should see." One student reviewer appreciated the documentary's portrayal of "disabled-centered happiness and accomplishments, one of the many ways it changed my perspective." Crip Camp reminds us of the power of community and activism to change the world.
Nicole Newnham and Jim LeBrecht, Directors/Producers
Nicole Newnham is an Emmy-winning documentary producer and director, Sundance Film Festival alumnus and five-time Emmy-nominee. She has recently produced two virtual reality films with the Australian artist / director Lynette Wallworth: the breakthrough VR work Collisions, which won the 2017 Emmy for Outstanding New Approaches to Documentary, and Awavena, featured this year at the World Economic Forum in Davos and at the 2017 Sundance Film Festival. Previously she co-directed The Revolutionary Optimists, winner of the Sundance Hilton Sustainability Award, Nicole also instigated, co-produced and directed the acclaimed documentary The Rape of Europa, about the Nazi war on European culture, which was nominated for a WGA award and shortlisted for the Academy Award. With Pulitzer-prize winning photographer Brian Lanker, she produced They Drew Fire, about the Combat Artists of WWII, and co-wrote the companion book, distributed by Harper Collins. A 1997 graduate of the Stanford Documentary Film Program, Nicole lives in Oakland with her husband Tom, and two sons, Finn and Blaine.
Jim LeBrecht has over 35 years of experience as a film and theater sound designer and mixer, author and disability rights activist. Jim began his career in theater, working as the resident sound designer at the Berkeley Repertory Theater for 10 years. His fim credits include The Island President, The Waiting Room, The Kill Team and Audry and Daisy. A complete list of his film credits (over 145) can be viewed at IMDB. Jim co-authored Sound and Music for the Theater: the art and technique of design. Now in its 4th edition, the book is used as a textbook all over the world. Jim's work as an activist began in high school and continued at UC, San Diego, where he helped found the Disabled Students Union. Jim is currently a board member of the Disability Education and Defense Fund, which works for the rights of the disabled through education, legislation, and litigation.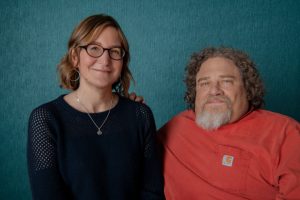 Watch This Year's Selection
Watch This Year's Selection – With Audio Description and Open Captions
Official Trailer with Audio Description
On the Same Page Student Essay & Video Contest | Submissions Due September 1, 2023
In partnership with On the Same Page, the Division of Arts & Humanities is excited to sponsor a student essay and video contest. After watching the documentary (available to stream for free on this webpage, including a version with audio description and open captions), we invite you to reflect via 300-word essay or 1-minute video.
Click here for more details. Submissions due September 1, 2023.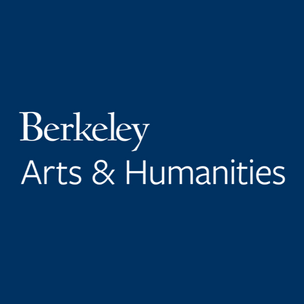 Disability Cultural Community (DCC) Center
UC Berkeley's Disability Cultural Community Center seeks to create and provide a safe and social space for the Cal disability community to build authentic connections and support one another. The space is designed by, for, and with the disability community to serve as a platform to advocate, educate, and collaborate among students, faculty, and staff living with a disability to advance and empower both the community on campus and beyond so persons with disabilities can fully learn, work, and live with dignity.
UC Berkeley Library Research Guide for Disability Studies
This website will help you find the best library databases, search tools, and reference sources for Disability Studies. Critical Disability Studies is an interdisciplinary and transdisciplinary field that approaches disability as a social and cultural category, a lived experience, and an analytical frame. It thus expands understandings of disability and people with disabilities across diverse geographical and temporal contexts. According to the Encyclopedia of American Disability History, "disability is not a characteristic that exists in the person so defined, but a construct that finds its meaning in a social and cultural context."
Disabilities Studies Minor
The Disability Studies minor provides a space to explore questions such as these: How has disability been defined in various historical moments, in various cultures and eras? While impairment has unquestionably been a frequent experience throughout human history, has disability—the construction of impairment as a generic social category—been a historical constant, or is it a modern invention? What social ideologies, cultural systems, and societal arrangements have shaped the meaning and experience of disability? How has disability been defined or represented in cultural and artistic productions, public laws and policies, modern professional practices, and everyday life?
Disabled Students' Program (DSP)
The Disabled Students' Program promotes an inclusive environment for students with disabilities. We equip disabled students with appropriate accommodations and services to achieve their individual academic goals. We are dedicated to supporting disabled students and collaborating with the campus community to remove barriers to educational access and embrace the University's values of equity and inclusion. We believe that an accessible environment universally benefits everyone.
Disability Access & Compliance (DAC)
Disability Access & Compliance connects the UC Berkeley community with the resources, training, evaluative tools, and services that support equal access to students, staff, faculty, and visitors with disabilities to participate in university-sponsored non-course-related programs or activities.
ASUC Disabled Students Commission
The Commission is a disability justice advocacy group and a community at UC Berkeley that is led by Disabled students. The mission of our Commission is to radically love. To radically love includes advocating for universal access, inclusive design and justice. It also includes caring, respecting, and being responsible for our community members. If you are interested in getting involved, getting emails, or just being invited to our parties navigate to our "Interest Form" in our linktree here.
Staff Alliance for Disability Access (SADA)
The Staff Alliance for Disability Access (SADA) is a collaborative and supportive campus staff organization that addresses the needs of UC Berkeley staff members with disabilities. "Disabilities" may refer to any combination of physical, psychological, learning, and medical disabilities.
Disability Studies Cluster, Othering & Belonging Institute
The Disability Studies Cluster aims to support theoretical and applied research, policy analysis, teaching and community partnership on disability issues at local, national and global levels. Working to understand the meaning and effects of disability socially, legally, politically and culturally at various points in space and time, we seek to eliminate barriers to full social inclusion; advance the civil and human rights of people with disabilities; elucidate the complexities of disability experience; develop new critical paradigms for understanding disability in relation to race, gender, sexuality, transnational perspectives and economic disparities; and open up new ways of thinking about and from the vantage point of disability.


Bancroft Library Oral History Center – Disability Rights and Independent Living Movement
The Disability Rights and Independent Living Movement Project was launched in 1996 to capture the history of a remarkable movement by people with disabilities to win legally defined civil rights and control over their own lives. Since then, more than 100 oral histories with leaders, participants, and observers of the movement in the 1960s and 1970s have preserved the living memory of the movement. A rich collection of personal papers and the records of key disability organizations join the oral histories in the Bancroft Library at the University of California, Berkeley, comprising an in-depth research resource for the study of a contemporary social movement which has changed the social, cultural, and legal landscape of the nation.
Crip Camp Curriculum
Crip Camp shared with insight, clarity, humor, and beauty the experiences of one group of disabled young people and their journey to activism and adulthood, and in doing so, provides an opportunity for all to delve into the rich and complicated history of disability activism, culture, and history. The goal of this curriculum is to extend the knowledge and understanding of disability and of disabled people offered in the film Crip Camp.
Crip Camp Education Materials
Crip Camp is about the emotional experience of finding community and oneself for the first time and the power of realizing that a better life is possible through social change. Below are resources that provide an overview of the history and context of the disability rights movement as well as a step-by-step framework for leading and moderating a discussion. These resources can help guide your conversations and empower you and your participants to share your voices with others in your community.
Crip Camp Educator Discussion Guide
This guide provides a framework for fostering discussion, critical thinking, and action after viewing Crip Camp. Even though we are everywhere, disabled people, disability culture, politics, and activism continue to be silenced and hidden by the mainstream, non-disabled media and culture. It is our hope that viewing Crip Camp and engaging in a critical discussion of the film will advance understanding and interest in disability rights and disability justice for yourself and the communities you work in.
Disability Language Style Guide (National Center on Disability and Journalism)
As language, perceptions and social mores change rapidly, it is becoming increasingly difficult for journalists and other communicators to figure out how to refer to people with disabilities. Even the term "disability" is not universally accepted. This style guide, which covers dozens of words and terms commonly used when referring to disability, can help. The guide was developed by the National Center on Disability and Journalism at Arizona State University's Walter Cronkite School of Journalism and Mass Communication and was last updated in the summer of 2021.
Do you have volunteer opportunities for students interested in supporting disability rights and advocacy in the Bay Area and beyond? Contact us at otsp@berkeley.edu. 
Center for Independent Living
The Center for Independent Living (CIL) provides advocacy and services that increase awareness, collaboration, and opportunity among people with disabilities and the community at large. CIL's programs provide people with skills, knowledge, and resources that empower them to eliminate damaging and stereotypical notions of disability so that they can strive toward realizing their full human potential. CIL is looking for disability community members and allies who want to support their goals for Independent Living and Community Access: Call for Volunteers
Alameda County Aging and Disability Resource Connection
The Aging and Disability Resource Connection (ADRC) initiative is designed to streamline access to long-term care. The ADRC program supports State efforts to develop "one-stop shop" centers in local communities that help older adults and individuals with disabilities make informed decisions about their service and support options and serve as the single point of entry to the long-term care system.
Faculty Planning Committee​
Faculty with expertise in the themes of this year's selection, from a wide range of disciplines, plan engaging events and activities for students throughout the academic year. In previous years, the faculty planning committee has organized panels, roundtables, film screenings, concerts, faculty dialogues, karaoke nights, contests, and more. If you would like to join our efforts, please email Aileen Liu.
Karen Nakamura
Robert and Colleen Haas Distinguished Chair
in Disability Studies and Professor of Anthropology
Selection Committee
Anne Baranger, Chemistry
Cori Hayden, Anthropology
Jake Kosek, Geography
Eric Ma, Physics
Poulomi Saha, English
Aileen Liu, Chair, Director of Curricular Engagement Initiatives
Student Reviewers
Abrar Rahman, Alexandra Zega, Amy Tu, Carina Kim, Christian Aleman, Citlali Diaz, Esme Cohen, Fe Su, Helen Berg, Hyunsoo Choi, Kyle Diarmit, Lenci Ni, Marina Zhao, Matthew Rowe, McKinley Keys, Mei Johnson, Michael Kamenis, Nichelle Wong, Niki Ebrahimnejad, Sofia McNamara, Sydney Reyes, and Vanessa Luna
Special thanks to Belinda White, Dave Murray, and Bridget Bernet.